Advanced Dental Sleep Treatment Center - Dr. Roger Roubal
(402) 493-4175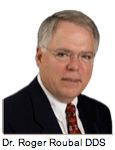 dental sleep clinic
11919 Grant St., Suite 140
NE, Omaha 68164
Office hours
Monday- Thursday: 8AM – 5:30PM
Friday: 8AM - 1PM
About us
It's never easy to find the right dentist...
Entrusting your dental health and your smile to someone is a big step. It's no different from choosing a physician. You want a dentist who knows what he's doing. A dentist you can trust, a dentist who listens to your concerns and pays attention, a dentist you feel good about coming back to see again.
" My goal is to help people lead better lives. It's a commitment
I made more than 30 years ago and it still keeps me going everyday. To me, there is nothing more fulfilling than helping people get a better smile.

My practice is not just a 'dental repair shop'. Once you finally start living pain-free again, I am confident you will see the value of your treatment within your renewed outlook on life."
Passion for dentistry
You need to know that the dentist you choose has the right training and credentials. But the right education isn't enough if you can't trust that your needs and concerns are being heard. The dentist you choose has to have staff that are trained and caring as well.
Dr. Roger Roubal has spent the past three decades as a Nebraska dentist to help people to achieve more attractive and healthier smiles. He has a passion for his profession and it shows in the results he achieves for his patients.
His commitment to excellence in all areas of his practice--general, cosmetic, orthodontics, restorative and neuromuscular dentistry--set him apart from others. Not only does he have extensive hands-on experience and expertise, he genuinely cares about his patients.
"A healthier and more attractive smile can affect your life--it can have a significant impact on more than your appearance. Our patients feel more confident and better about themselves. We focus on treating individuals, not just their teeth. Our custom treatment plans and financial options help my patients to achieve the results they want", says Dr. Roubal.
What are Dr. Roubal's credentials?
Dr. Roger Roubal earned his DDS from Creighton University in 1974. A believer in lifelong learning, Dr. Roubal has a special focus on aesthetic dentistry and the diagnosis and treatment of TMJ (temporomandibular joint disorders) and CMD (cranio-mandibular dysfunction).
Only one of approximately ten Nebraska dentists to do so, Dr. Roubal has completed advanced cosmetic dentistry training at the prestigious Las Vegas Institute for Advanced Dental Studies. LVI is a renowned, hands-on facility where dentists treat patients and learn from world-class cosmetic dental experts. Dr. Roubal remains committed to pursuing continuing education like that offered at LVI so he can remain at the forefront of cosmetic dentistry techniques and innovations.
Dr. Roubal has a number of professional affiliations, including:
Las Vegas Institute for Advanced Dental Studies

International College of Cranio-Mandibular Orthopedics

American Academy of Craniofacial Pain

National Headache Foundation

American Association of Functional Orthodontics

American Orthodontic Society

American Dental Association

Academy of Dental Sleep Medicine

Academy of General Dentistry

Nebraska Dental Association

Omaha District Dental Society

ACSDD (Academy of Clinical Sleep Disorder Dentistry)
Consistent Satisfaction
You should be the decision maker when it comes to deciding how your smile will look. At Advanced Dentistry, you have that control. We use the latest advances in cosmetic dentistry procedures. Using state-of-the-art computer programs, you can see what your new smile will look like before we do the actual work. This is important to our patients because they can see what they will look like after the final work is done. You are able to approve the computer changes to your smile before your procedure begins, giving you a better understanding of what changes will be made. The Advanced Dentistry Difference shows you what your smile will look like after the procedure. Because of this advantage, we are consistently able to satisfy our patients. This sets us apart from many cosmetic dentistry offices.
Training
Dr. Roubal's staff have received extensive training in cosmetic dentistry. An experienced and caring staff plus the latest in computer technology create the foundation for providing the best experience possible in comprehensive and complete cosmetic dentistry.
The staff at Dr. Roubal's office go the extra step to ensure you have the best experience you can have. They are committed to hearing your concerns and ensuring you get the answers you need.
Referrals
Hearing about positive experiences from other people is something many of us count on when making choices. Dr. Roubal's office receives most of his new patients from word-of-mouth. It's a testament to the fact his expertise, caring staff, patient input into the process and technology provide our patients with the most comfortable and informed procedure they can have.
Contact us
Dr. Roger Roubal - Advanced Dentistry LLC

11919 Grant St., Suite 140
Omaha, Nebraska (NE) 68164
Call
402-493-4175
Email